June 2020 In light of the recent brutal killing of George Floyd, the CHAMPION Mental Health Lab is issuing this statement in solidarity with everyone who denounces and condemns the violence and racism, particularly the anti-Black racism, that has perpetuated in society and oppressed people of color for centuries. We condemn the blatant police brutality responsible for the death of George Floyd and the countless others before him that has clearly rooted from bigotry, prejudice, racism, xenophobia, and hate. We call to mind the need for transformational change that could begin within the walls of academia and could spread throughout all impacted communities in our society today.
May 2020 Our research lab team participated in the Spring 2020 Virtual Undergraduate Research Symposium that was organized by UNLV's Office of Undergraduate Research. The symposium was an asynchronous event that was held from May 1st to 8th. Presented by Aruna Sedere and Trinity Puno, the symposium's judges chose our poster as the finalist in our category's session. Kudos to Trinity, Aruna, and Jenna Despres, for a job well done!
March 2020 The CHAMPION Mental Health Lab has started work on the quantitative analysis of the demographic survey data, and the thematic analysis of the qualitative interview data, of its most recent research project on the resilience of older adult long term survivors to HIV/AIDS. The findings and lessons learned from the analyses of the said data will go towards creating the content of a community/technical report that will be shared with all relevant stakeholders across Southern Nevada.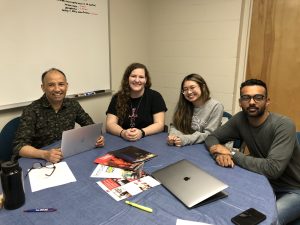 February 2020 Recent UNLV graduate Jenna Despres joins the CHAMPION Mental Health Lab this month after the lab conducted a series of interviews to select a new research assistant to be part of the lab's team. Jenna graduated from UNLV in 2019 with a double major in Sociology and Psychology. Jenna brings with her abundant experience from other research labs at UNLV. Her research interests are an amazing match to the research focus and agenda of our lab. Welcome to the lab and the team, Jenna!
December 2019 Dr. Rainier Liboro officially joins the LGBTQ Center of Southern Nevada as its Academic Research Involvement and Engagement Liaison (research liaison, for short!). In this new role, not only will Dr. Liboro collaborate with the Center, and potentially its other community partners (i.e., Southern Nevada Health District, Affirmations LGBTQ Community Counselling Center, and the Huntridge Family Clinic) in developing and conducting research relevant to the clients and relevant stakeholders of the Center, but he will also be able to safeguard and promote the interests of the Center in future research work with UNLV and other research agencies and institutions. Next year, a plan to conduct an examination and evaluation of the Center's services and programs, particularly those related to LGBTQ and client sexual and mental health, will be initiated and implemented in close collaboration with the Center and other community partners. Featured in the photo are Dr. Liboro, and Executive Director of the Center, Dr. John Waldron.
November 2019 Just last week, undergraduate research assistants Aruna Sedere and Trinity Puno, represented the CHAMPION Mental Health Lab at the Undergrad Research Matching Event, which was sponsored by the UNLV Outreach Undergraduate Mentoring Program (OUMP), Psi Chi, and the Psychology Club. Trinity and Aruna talked about the lab, its research agenda, and plans to undergraduate students who attended the event. They were able to gain a lot of interest and get an amazing response. Great work, Aruna and Trinity!
August 2019 Data collection for the "Older, Wiser, Fiercer: Racially Diverse, Middle-Aged and Older Men Who Have Sex With Men's Resilience to HIV/AIDS" research project has recently wrapped up in Toronto, Ontario, Canada. Fifty-five confidential, semi-structured, qualitative interviews were conducted across Southwestern and Central Ontario, Canada, from February to June, 2019, to examine the perspectives of middle-aged and older men who have sex with men on factors that have kept them resilient to HIV/AIDS since the beginning of the epidemic roughly 40 years ago. Demographic survey data were also collected from all 55 participants. Included in the photos are members of the Toronto research project team and the Toronto Community Advisory Board.